When millions of dollars of business value and optimization depend on one process, leaders better care for that process.
In this article, we'll view Requests for Proposals (RFP) from the demand perspective – the company that places the Request for Proposal. RFPs are estimated to have generated close to $500 billion of company spending, in 2022, globally. A large part of this spending is allocated to digital projects, of which only over a third are correctly implemented, according to recent research.
With so much spent through RFPs, and so little of it succeeding, shouldn't it be a priority to optimize your RFP management process?
You will find below an overview and practical takeaways for managing RFPs.
We will address the following questions:
A definition of RFPs.
Pain points for buyers and vendors.
Best practices for putting them together.
Typical benefits for the company requiring the RFP.
Perspectives: the importance of RFPs seen from the eyes of CEOs, CPOs, CSOs, CMOs and CFOs.
RFP: In Summary
RFPs, or "Requests for Proposals", are a great way to kickstart change in your organization. By implementing them effectively, you can ensure that your business is making informed decisions about its digital transformation. With proper RFPs, your business stays ahead of the competition.
What are RFPs?
RFPs are documents that any organization publishes to request a proposal – a formal bid – from vendors for a desired solution. RFPs are a widely used process to change tools and… processes.
When to use RFPs?
For any organization to implement change through an external solution
Primarily for digital and IT-related projects
For large contracts relative to the size of the organization (large footprint within the company, department, or its customers)
How to succeed with your digital RFPs?
At Penon, we refer to our in-house SAIL© methodology to prepare RFPs. RFPs are a 3-step process to seeing change happen:
RFP Preparation

Define the problem and what stakeholders need. Give a timeline and cost estimate.
Write RFP requirements.
Identify qualified bidders. Connect with vendors to select them. Can be part of an RFI.
Issue RFP to vendors

Bid Evaluation

Q/A Management
Analyze the answers.
Meetings with vendors and shortlists
Matrix analysis
Identify the best proposals.

RFP Award

Negotiations
Contract Sign Off
Implement and monitor change.
Evaluate results and determine ROI on project.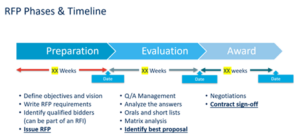 Receive more information on our unique RFP SAIL© methodology.
At Penon Partners, consultants have supported dozens of companies with RFPs, in industries as varied as High-tech, Healthcare, A&D, and Manufacturing.
Understand well the usual challenges with RFPs
Understanding the typical challenges of Requests for Proposals will help you implement them smoothly. Challenges may affect customers (demand side) and vendors (offer side). Here is a list of such challenges:
RFPs are complex and time-consuming.
They are difficult to manage.
They can be expensive, depending on the number of vendors involved in the process and their location(s). Some companies have found that it can cost them up to $1 million for each RFP they receive! (Government contracts for Aerospace and Defense, etc)
It is often frustrating when you don't hear back from a potential partner or vendor after submitting an RFP, which could lead you down the path of losing interest in working with that company altogether because their lackadaisical attitude towards your business has turned you off completely! And we all know what happens when one person gets upset about something… the whole team starts complaining about it too! In addition, those types of situations may lead directly to delays due to poor communication between both parties involved (which brings us right back around again!).
Below are some of the most important challenges in the RFP process according to an RFP software vendor.
check out more here. Loopio's report was based on data from a survey 500 people involved in the RFP process for their firms, including proposal managers, solutions engineers, and sales and marketing executives. Loopio is a RFP response software with credibility in the matter.
Best Practices to increase your chances of success
The following best practices will help you to succeed a Digital RFP Management:
Conduct a thorough analysis of your current business model.
Conducting a thorough analysis of your current business model is important because it helps you to define what needs to change, how, when and why.
Define the requirements for your new business model.
This step will allow you to create an effective roadmap for change management that can be implemented over time with minimal disruption to your organization or customers/partners. Set up clear requirements for the format and the content of the offer itself.
Set up a process to communicate and give feedback to all the vendors involved.
Setting up a communication process will allow you to improve your reputation as an organization worthy of attention. Vendors always bid on multiple RFPs and need to understand why your RFP will be worth their attention. Show them that you will support them in the process and that they will engage in a relationship with your organization – which any salesperson on the other side is trying to do. Let them know you will give them feedback.
Leverage automation in the selection process.
Some large companies or well-funded startups need to manage many RFPs per quarter or year, leveraging automation like software for data entries and organization, Robotic Process Automation solutions for repetitive tasks (RPA), and Artificial Intelligence for text, pictures, or video analytics (AI) will help you process vendors' answers faster and at scale. Integrating data from the RFP into other systems will help you manage them better for sales, operations, innovation, and productivity gains. For instance, you can integrate with your CRM and connect with your MDM or PLM systems.
Reap the benefits of well-done RFPs
RFPs are a key tool for digital transformation. They can help you to transform your business, change your business model, innovate your business and optimize it.
The whole process of managing RFPs is based on the following principles:
Business transformation with RFPs requires strong leadership in order to make sure that the right decisions are made at each stage of this process;
Getting things done requires clear goals and priorities;
A good planning process should be followed throughout all stages of an RFP management project (from strategy development through implementation);
RFPs are a great way to kickstart change management. Change management is a process that involves planning and managing change in a way that minimizes the negative impact of change on people, business systems, and the whole organization. Change management is not just about technology changes; it's also about improving your existing processes and streamlining them so they're easier to execute, which can result in higher productivity for your company or organization.
Change management starts with analyzing your current situation–what does your team need from this project? What are their goals? How can we achieve them together? Once you've defined what exactly needs to be changed within your organization's workflow processes (and why), then you'll want to identify those who will be affected by those changes–this includes both direct stakeholders such as IT vendors/partners but also indirect stakeholders like employees who may have more autonomy over certain aspects without being aware of it yet (or vice versa).
Practical Tips for RFPs
I selected the following practical tips for you, that support different phases of the RFP publishing process.
If you're looking for RFP software, you need to get this right.

Identify a specific problem people have in your company.
Understand the objectives of your internal 'target audience'.
Find out what they're budgeting for.
Research your competitors and see if they're already doing RFPs better.
Look for the RFP software that best supports your needs.
Leverage your Market Research and Competitive Intelligence teams
Once you've understood the goals and changes to obtain, leverage market research expertise to pre-select vendors.
Let the competitive or market research teams classify and rank an exhaustive list of vendors' offers and usability criteria.
Have them run interviews with experts to fine-tune the options available to you and refine your requirements.
Leverage expert groups like GLG and others to pre-qualify the vendors and learn about trends.
Educate your internal stakeholders about the results of the research.
Use the perspective of the vendors you'll connect with to run smoother RFPs.

Collaborating with your company's SMEs is what the vendors expect will take them the most time. It is a task that you should make clear you will support.
Similarly, internally finding answers to their questions will be a challenging task.
Providing enough delay for completing the RFP will be key as well.
Below, check out the challenges that vendors answering to RFPs usually experience.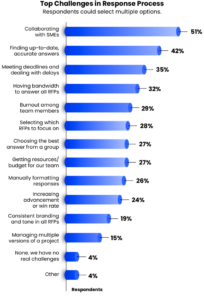 Source Loopio, see more information above.
In many cases, companies answering RFPs have too many opportunities at the same time. They need to prioritize what RFPs they'll answer, by assessing their best chances of success and capabilities at a given time. Showing clarity on the elements listed above will help your vendors prioritize you over many other RFP opportunities.
Perspectives
In the "Perspectives" section, we highlight how the topic is important to various leaders depending on their job function.
The CEO perspective
Initiate change. Leverage a transversal RFP as a practical way to initiate change in your organization. Sometimes, you'll end up changing processes and old habits just by taking the time to look at things in a way that will matter to your teams. Optimizing your RFP processes is a transversal matter that you can impulse to harmonize practices in your company, and to deliver better bottom-line performance, faster.
The CPO perspective
Optimize your product cycles. Test vendor solutions for your product innovation and product lifecycle management. Leverage their expertise to
The CSO perspective
Find out how vendors could accelerate and improve your GTM. Go-to-Market is a transversal activity often led by Sales but shared across the company. Sales leaders can get a larger influence through it. Optimizing the process is all to your advantage. As a result, outsourcing that optimization to vendors and changing the status quo through an RFP can give your company a specific advantage for upcoming sales cycles.
The CMO perspective
Listen to the market with an RFP. Leveraging the research steps of an RFP process to understand the vendor landscape of a market that will benefit your company will create innovative ideas for market adjacencies and partnerships for marketing and content creation. It will also propel your teams as a product partner and increase your influence internally as a product-centric business partner.
The CFO perspective
Take the lead in harmonizing cost optimization. A harmonized methodology for RFPs should help each functional leader adopt best practices. From there on, you can expect a better culture of change, and the new tools put in place through the right RFP methodology will increase your company's profitability.
Source Loopio, see more information above.
In many cases, companies answering RFPs have too many opportunities at the same time. They need to prioritize what RFPs they'll answer, by assessing their best chances of success and capabilities at a given time. Showing clarity on the elements listed above will help your vendors prioritize you over many other RFP opportunities.
Sources of interest
Other related Penon Articles
Check out this Digital RFP use case.
About the author
Meet the author
Hugues Seureau | Managing Consultant
I provide leaders with a fresh look at improving their product innovation performance and marketing. My clients want to drive their decisions based on their customers' "jobs-to-be-done". They need better models for aligning their product roadmaps to their markets, competitors, and resources. They want to take the pain out of choosing the right transformation initiatives. They struggle to power up their next wave of innovations.
Penon Partners
Created in 2016, Penon Partners is a consulting firm specializing in strategy execution in business operations, IT, and finance.​
We work with companies who want to reach the next level of performance in these domains and accelerate their business transformation.​
20+ years of clients' great results in leading change & critical transformations: teams' integration, process improvement, ERP & IT large programs, streamlining finance operations, Sales, and CRM operations​.
Our FR-US bi-cultural team is based in the US, mainly in ATL, GA and NYC, and composed of highly experienced, executive-style leaders with consulting skills in strategic, tactical, and operational transformations. ​